The Best Hidden Gems in Chinatown Las Vegas
Located less than 10 minutes from the world-famous Las Vegas Strip, Chinatown Las Vegas is like a treasure chest full of shiny hidden gems.
While its Asian-inspired restaurants are the number one draw, they're only part of a much larger picture. From video games to table tennis, massage to karaoke, tiki to tequila, there are plenty of things to do and to drink before or after dinner. And that's just the tip of the bingsoo.
Most of Chinatown's establishments and attractions are tucked inside the ordinary strip malls fronting Spring Mountain Road, from Interstate-15 to Jones Boulevard. Some have Asian-style flourishes, while others resemble any other shopping plaza in Las Vegas. Most of the things to do and places to drink or shop below, but not all, are located within walking distance.
Things to Do
Those Are the Breaks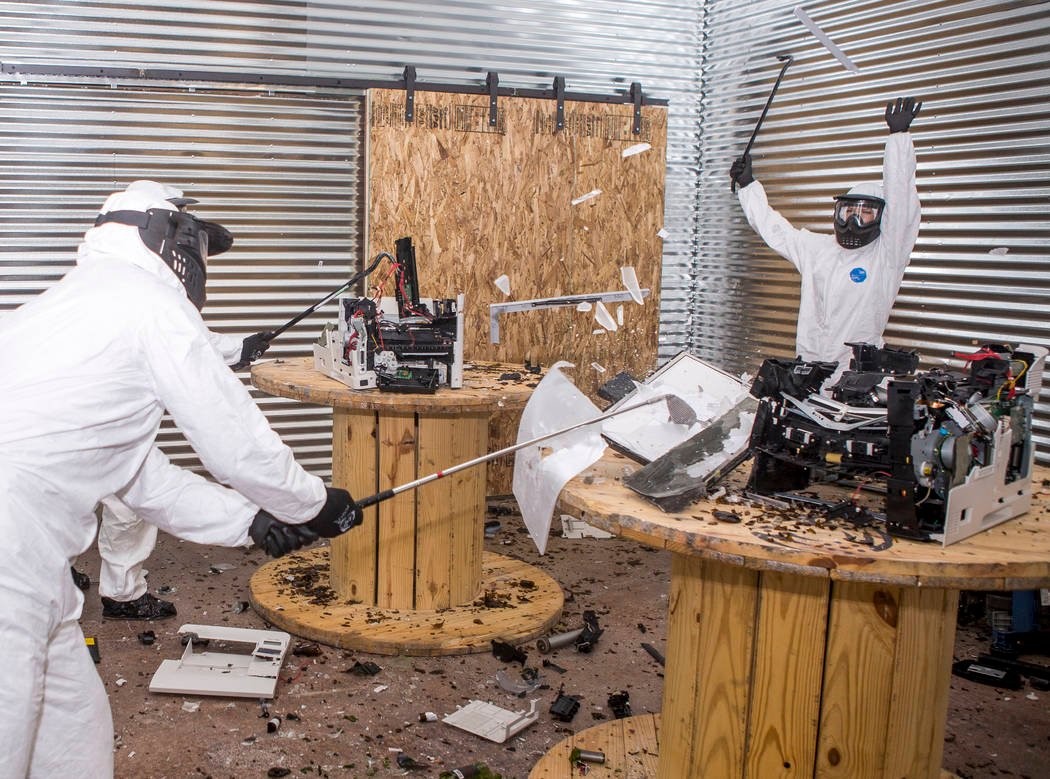 Located in the Center at Spring Mountain, Wreck Room is exactly what it sounds like, a room where you wreck stuff. You and up to five friends literally get to make like the Hulk, and smash objects. Glass bottles, smash. Ceramics, smash. TV, smash. Computer, smash. Smash everything in sight with no worry of getting arrested or hurt since it's totally legit and you're suited with safety gear. Plus, when you're done unleashing any and all inner anger and rage, you won't have to clean up the broken pieces.
Table Tennis, Anyone?
Also located in the Center at Spring Mountain, Nevada Table Tennis (also known as Olympic Table Tennis) is a sports club with all things ping pong, including 10 professional, pay-to-play tables (starting at $5), for all levels of players. The facility is open every day for events, tournaments, sales, coaching, and classes. Since it also has changing rooms, you can easily show of your killer corkspin before or after dinner.
Make a Spa Date
Who doesn't enjoy a good massage? XY Foot Spa, in the Center at Spring Mountain, is a clean, comfortable place to ease your sore muscles and let go of tension with a regular, hot stone or hot stone sea salt massage. Customers rave about the spa on Yelp, citing its amazing massages, professional staff, and great prices.
Sing After Supper
If you have a song in your heart, Chinatown has a karaoke bar for you.  J Karaoke, located in the Center at Spring Mountain, offers a late-night singing lounge, Asian-American bites, and cocktails. Further up Spring Mountain at Jones Boulevard is Karaoke Q Studio a hot spot for karaoke with private rooms for a more personal karaoke experience.
A Thrilling Escape
If our dazzling, 24-hour city of sin isn't escape enough, try the mystery, murder and mayhem at The Basement: A Live Escape Room in Las Vegas (Spring Mountain Road and Polaris Avenue). You've been kidnapped by a twisted psycho named Edward Tandy and you must escape from his dead mom's basement or study. Navigate clues, trap doors and live actors (pretty much anything that isn't bolted down) to escape from the room and Tandy's mommy issues before it's too late.
Fun for Gamers
For some lighthearted gaming fun, play Japanese arcade games and console games at Game Nest Arcade, located in the Mountain Point Business Park. The arcade has a variety of arcade games including Initial D Zero, Reflec Beat, Groove Coaster and two multi-player games from the Bish Bashi series. XBox One, PS4, and Nintendo Switch consoles are also available. Every game is on free play. You just pay for an hour of play at the door.
Ready, Aim, Fire!
You've shot guns like the AK-47, M4, Glock, UZI, and Beretta in video games. Now you can shoot them in person. Machine Guns Vegas, located at Spring Mountain Road and Aldebaran Avenue, offers an armory of over 40 firearm options ranging from modern machine guns to historical firearms. The shooting range is safe for both first-time and experienced shooters with a variety of packages and prices.
Be a Player
With 17 Olhausen tables and four bar box tables, Cue D's Pool Hall & Bar in the Mountainview Plaza is a fun spot to shoot some pool with friends or compete in a weekly tournament while sipping on domestic and import beers, sake, and soda. Cue-D's is open to all ages until after midnight, when you must be at least 18 (with valid U.S. identification).
Drinks & Dessert
A Las Vegas icon
Opening its doors in 1976 as the Sand Dollar Blues Bar, this hang remains one of Las Vegas' most iconic and favorite bars. Located in the Plaza Vegas Business Park, the bar continues to make history as The Sand Dollar Lounge with live music from emerging artists, pool tables, table slots, tap beer and craft cocktails.
Getting Tiki with It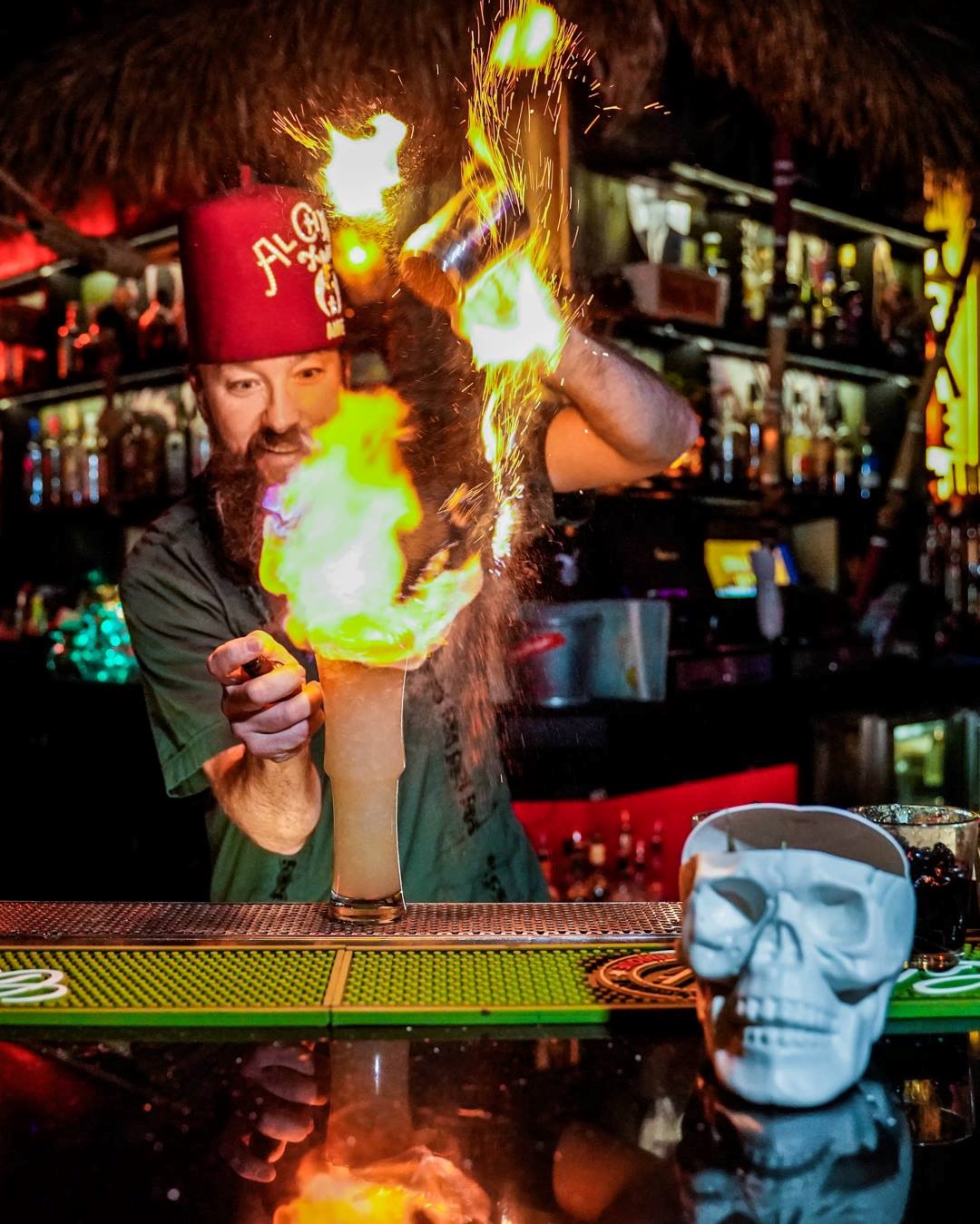 Though it's located in Chinatown Las Vegas, you may think you've left the desert and landed on a tropical island at The Golden Tiki. Modeled after a classic mid-century tiki bar—celebrity shrunken heads and an animatronic bird show included—the menu of rum and craft beers includes nostalgic cocktails like a mai thai and new creations like the Chinatown Sling. The Golden Tiki is located in the popular Center at Spring Mountain.
Wine Time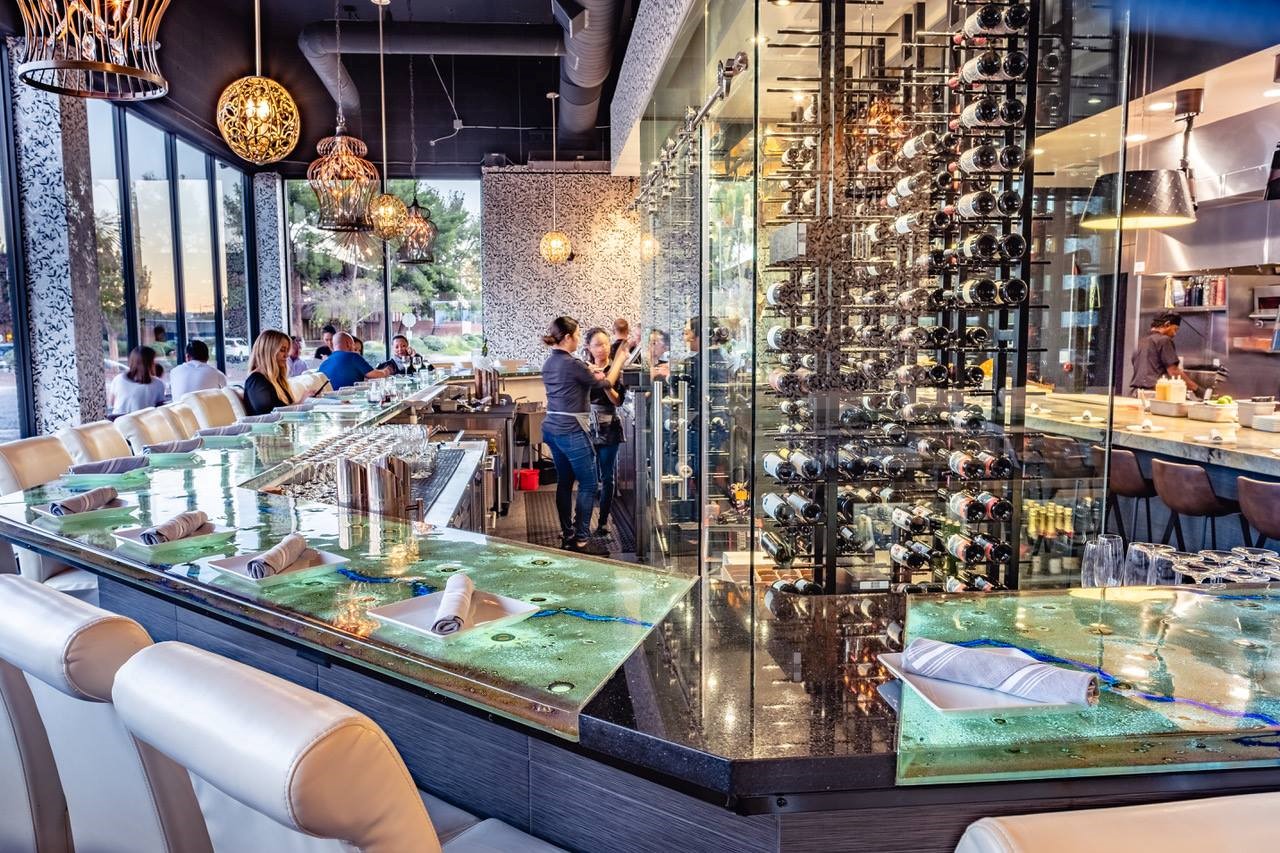 Located west of Decatur, Mordeo Wine Bar offers a contemporary yet cozy bar setting with gorgeous lighting features and comfy yet chic countertop seating. The centerpiece is the practically floor-to-ceiling wine rack encased in glass. Enjoy the view while sipping on wine, sake or sangria.
More Tequila, Please!
Más Por Favor Taqueria y Tequila is a new addition to the Center at Spring Mountain in Chinatown Las Vegas. The restaurant is one tasty aspect, but there's also a bar inside. Pass through a tunnel to the hidden parlor at Más Por Favor, where you'll encounter a craft cocktail program, Mexican beer, bottle service, tequilas and mezcals that will have you speaking Spanish. The secretive speakeasy also features a live band or a local DJ.
Bubbles and Bingsoos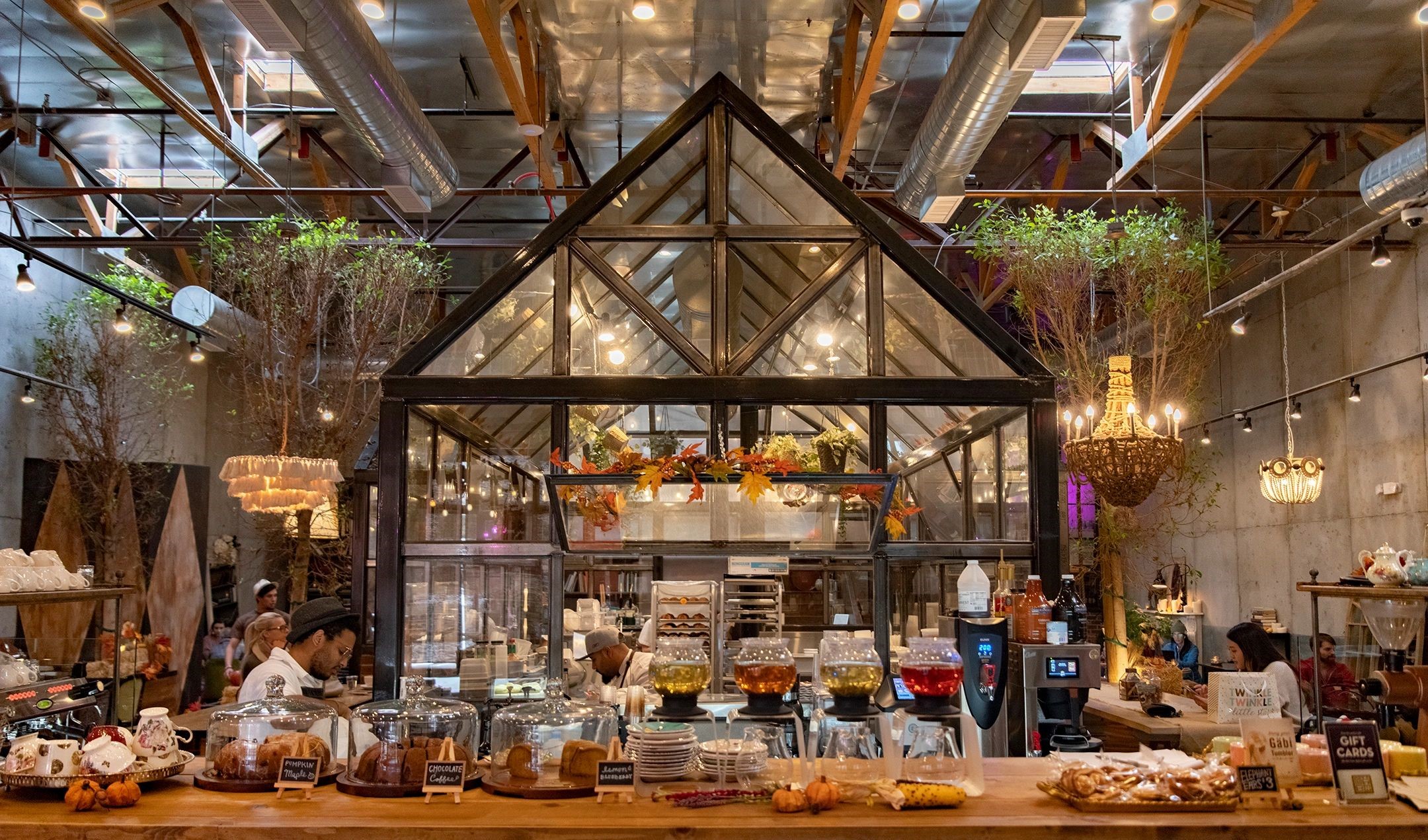 If you're looking for coffee, tea or something sweet, you'll find plenty of options in Chinatown Las Vegas. Local bakery Gäbi Coffee & Bakery, located in Mountain Point Business Park West, is the perfect stop for a cup of coffee or freshly baked bread. The building blends traditional oriental and modern western design.
Seoul Plaza: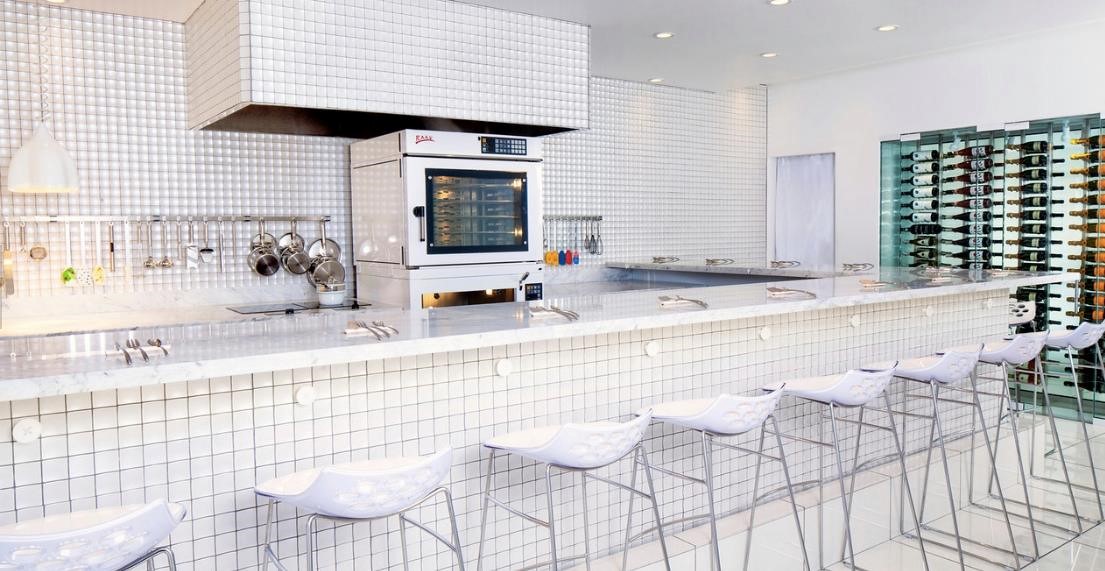 Once called the Starbucks of bubble tea by the Washington Post, Kung Fu Tea is the place to be for made-to-order tea, fruit and milk-based bubble teas. Or try Japanese pastry, coffee and tea at Sweets Raku.
Shanghai Plaza: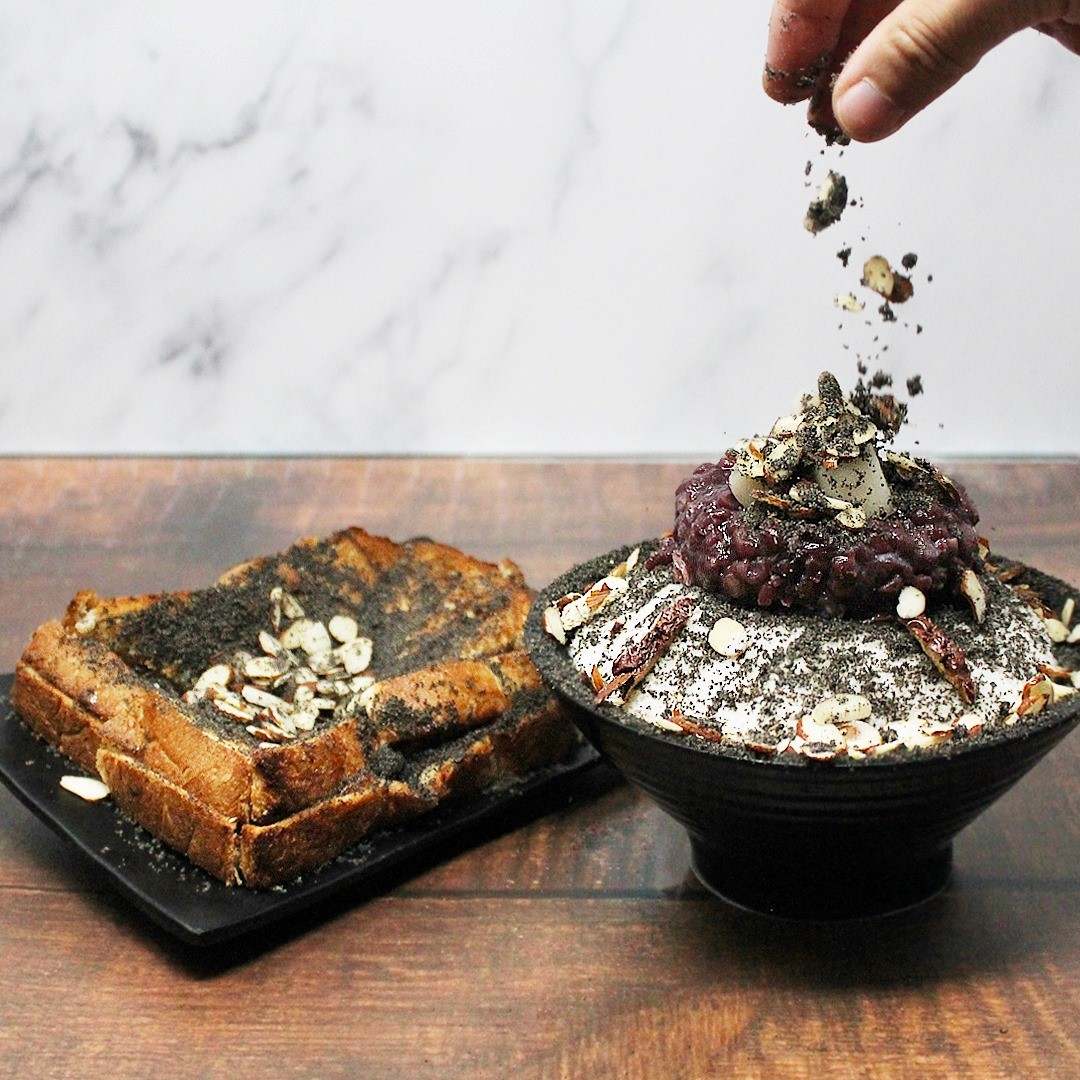 You'll get a glimpse into Korean culture when you try the shaved ice, known as bingsoo, at Sul & Beans while Sweet Honey serves fine and fresh, authentic Hong Kong dessert that are handmade with local ingredients.
Shopping
A Trip Through China
Marked by a traditional Chinese arch, Chinatown Plaza Shopping Mall (south of Spring Mountain Road, between Wynn Road and Arville Street) offers a trip through China with Chinese music in the walkways outside the stores, framed posters and information about Chinese art and history, as well as statues from Tang Dynasty-era Chinese literature. The plaza includes restaurants, a salon, cosmetics shop, arts and crafts, and gift shops selling plants, fine art, jade, jewelry, and everything in between. It's home to the only Chinese book shop in Nevada, the Great Wall Book Store, Asian supermarket 99 Ranch Market and Chinese herb shop, T&T Ginseng.
Chinatown's Newest Plaza
Across the way from Chinatown Plaza, on the opposite side of Spring Mountain Road, is one of the newer plazas in Chinatown Las Vegas, Shanghai Plaza. Considered a haven for foodies, this elegant plaza is primarily home to restaurants and bakeries, but also has a variety of other businesses reflecting Asian culture including a vape store, spa and salon. Primarily, it's the top spot in Chinatown Las Vegas to grab coffee, tea and dessert.
The Center of All the Action
Located between Valley View Boulevard and Wynn Road is The Center at Spring Mountain, home to the Wreck Room, Nevada Table Tennis and The Golden Tiki. Here, you'll find a variety of restaurants, stores and gift shops like video game store A Gamer's Paradise and lucky bamboo and money tree store Hoshin Trading. There's also the DJ-owned, funky clothing boutique for men, KNYEW, and the World of Feng Shui, which sells jewelry, incense and books related to the Chinese art and science of feng shui.
If you're looking for things to do before or after dinner, you'll find plenty of shopping, drinking, dessert, and activities off the Las Vegas Strip in Chinatown Las Vegas. The growing neighborhood is rich with cultural diversity and exciting adventures.