Our Downtown Las Vegas Ultimate Guide
The Ultimate Guide to Downtown Las Vegas
No single word can do justice to Downtown Las Vegas. Its diversity and appeal are legion. It is a hub of arts and culture, a mecca of exciting food and drink, a living tribute to vintage Vegas, and so much more. In short, it offers up something for everyone.
When it comes to finding things to do in Downtown Las Vegas, you don't have to look far. Whether it's a traditional Vegas experience or something more bohemian, you'll find it in one of downtown's various districts. Whether you're drawn to art, shopping, attractions, activities or top-shelf drinks, it's all here – and worth exploring.
Art
Downtown Las Vegas is home to a dynamic and growing art scene that rivals that of the world's biggest cities. The area boasts first-rate facilities like the mammoth Smith Center for Performing Arts in Symphony Park; hip art galleries, studios and stores in the 18b Arts District; and six blocks of vibrant venues pulsating with local energy in the Fremont East Entertainment District.
18b Arts District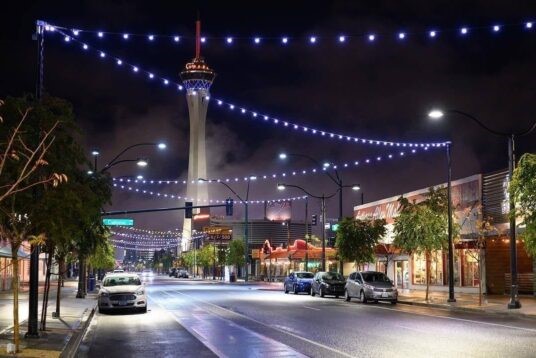 The 18b Arts District, just south of downtown, is the cultural epicenter of the burgeoning Las Vegas art scene. Its 18 blocks comprise one of the city's oldest neighborhoods (between Colorado to Hoover avenues and Commerce Street to Las Vegas Boulevard). Once rundown and semi-abandoned, the area is now a hotbed of artists, art galleries, antique shops, retro boutiques, cool cafes, and bohemian bars.
The district's pioneers include the studios, shops and bistro at The Arts Factory, a converted industrial building. The nearby Art Square is a performing arts complex with shopping, dining, craft cocktails, and a garden. One of the district's major draws is the city's monthly First Friday event, which showcases the creativity and innovation of the vast local art community.
Mural Art Walk
Whether you traverse them on your own or take a guided tour, the Mural Art Walk is a colorful journey past dozens of vibrant murals by globally acclaimed artists. Beautifying casino facades and hidden alleyways in the Fremont East District, the murals mostly adorn the eight-block radius between N. 6th to 7th streets, and from Ogden Avenue to Fremont Street.
While new pieces usually pop up before the city's annual Life is Beautiful music, art and education festival in the fall, others are organic additions to the growing downtown arts scene. Some notable additions include the anti-violence statement piece, "Peacemaker" by English multimedia street artist Dean Stockton, a.k.a. D* Face, that's found between 8th and 9th streets; the classic Vegas-themed "Fear no Fate" by American street artist Tristan Eaton, located on the side of the El Cortez parking structure between 6th and 7th streets; and the 3-D, hyper-realistic butterflies by French-based street artists Mantra, situated on the northeast façade of the F9 residential building overlooking Fremont Street.
Downtown Art Alley
The city's newest outdoor community space, Downtown Art Alley, opened in February, resuscitating a 10,000-square-foot, T-shaped alley (between Fremont Street to Carson Avenue and Las Vegas Boulevard to 6th Street). Previously a wasted space, it now thrives with interactive family-friendly experiences combining art, education, music, and nature.
The walls include vibrant murals by local artists, while the planters are tended by formerly homeless veterans through the Nevada non-profit Caridad Gardens. Along with events like art walks and farmers markets, the alley features multiple interactive "moments" such as a public piano, a puppet theater, a take-or-leave community library, and even an alley confessional booth. This is Sin City, after all.
Attractions
There's a lot more to downtown Las Vegas. Tons of attractions can be found on just about every street corner, inside casinos or just by looking up.
Fremont Street Experience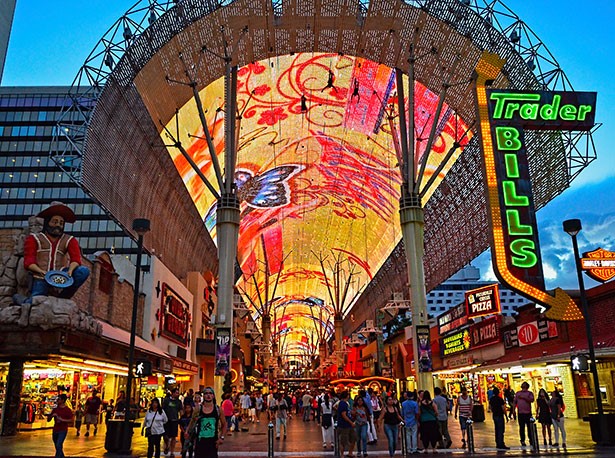 The Fremont Street Experience pedestrian mall is a high-tech tribute to old-school Vegas. Running east to west along five blocks of Fremont Street between Las Vegas Boulevard and Main Street, this stretch was once bumper-to-bumper with cars and other vehicles. Now, it is open only to foot traffic and, of course, high-flying zip liners.
From light shows and live concerts to people watching and casino hopping, there are plenty of attractions that don't cost a thing to enjoy. There's also shopping, snapping photos with costumed characters, checking out vintage neon signs or simply strolling along the street. The centerpiece is the Viva Vision canopy, a recently renovated state-of-the-art video screen 90 feet above the street with hourly shows, 24/7. The newest show, "MIXology," which debuted on New Year's Eve 2020, features 3D visuals and iconic songs from music's greatest artists and eras.
Hand of Faith at the Gold Nugget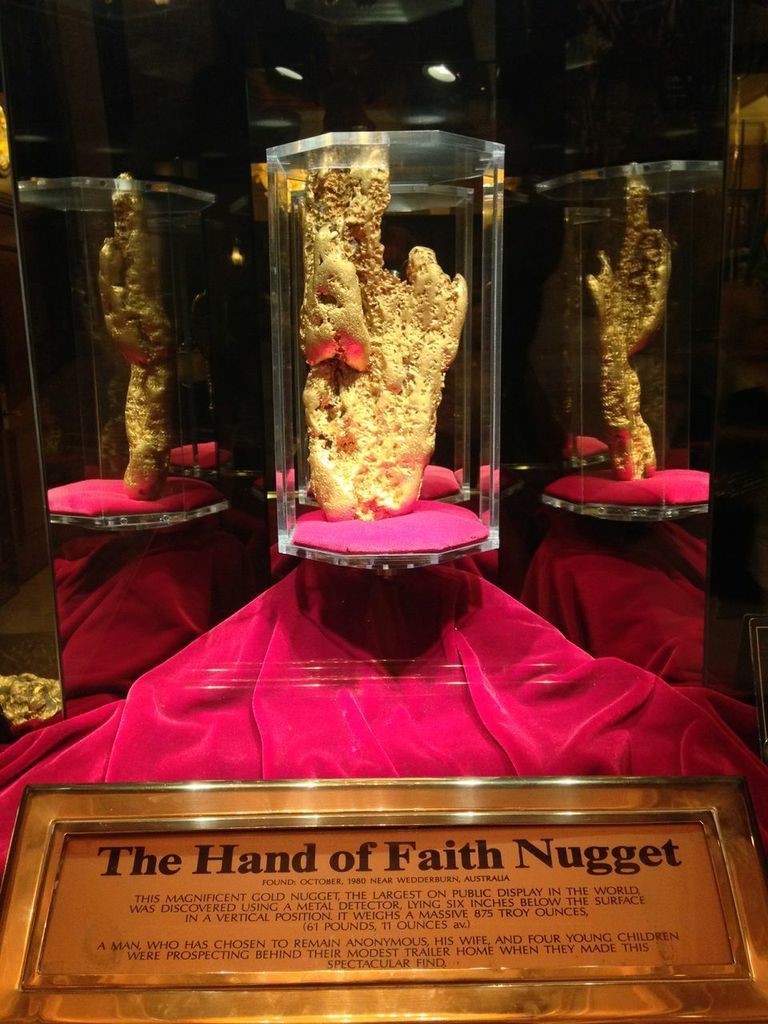 California may be known as the Golden State, but when it comes to gold production, Nevada could just as easily stake claim to the name. And while it wasn't found in Nevada, the biggest golden nugget in existence is right here in this state.
The 61-pound Hand of Faith golden nugget was discovered in Australia in 1980. Found with a metal detector not far from a treasure seeker's home, it was later sold to the Golden Nugget Hotel & Casino in Las Vegas for more than $1 million. This Insta-worthy, eye-popping hunk of precious metal now resides in the hotel lobby for your viewing and posing pleasure. Just say "Cheese!''
The Tank at the Golden Nugget
There are hotel pools, and then there's the Golden Nugget's $30 million dollar pool, The Tank. The three-story complex has gushing waterfalls, 17 private cabanas, a large hot tub, plenty of poolside or in-pool seating, and the popular H2O Bar.
But the main attraction at The Tank is a 200,000-gallon aquarium filled with six species of sharks, tropical fish, and other marine life. For a real thrill, barrel past these spectacular sea creatures down a three-story waterslide. Don't worry, the water slide is enclosed, and the sharks are well fed.
Binion's $1 Million Display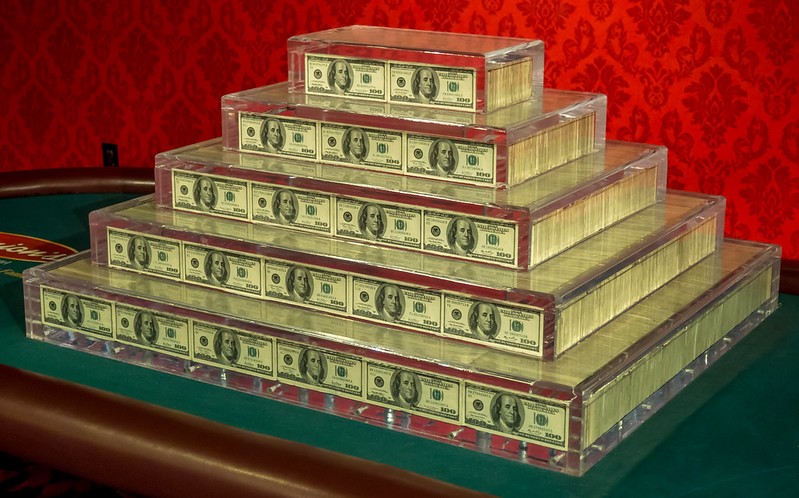 Looking for some bragging rights? Every morning for a limited time at Binion's Gambling Hall, you can snap a photo alongside a pyramid of $1 million in cash. With denominations ranging from $1 to $100, this display will have your friends thinking that you really hit the jackpot!
The lucrative display is in the casino near the Club Binion's Players Club. While the glossy 6×8 souvenir photo is free, you must be at least 21 years old to participate.
Berlin Wall at Main Street Station
When the Cold War ended and the Berlin Wall fell, there was plenty to cheer. So, it's fitting that a little piece of this history ended up in the world's hub of celebration, Las Vegas.
A large slab of the Berlin Wall can be found in downtown Las Vegas, just off the casino at Main Street Station – in a spot you'd never expect. It's on the wall of the men's restroom with three urinals attached. It's a rather ironic placement, considering it was illegal to relieve yourself on the Berlin Wall pre-1989. Anyone can check out this hidden, historic gem by asking a security guard to escort you.
Activities
With a wide variety of activities ranging from a slot-inspired zipline to a unique museum of neon signs, boredom is not an option in Downtown Las Vegas. Even if you're simply down for a chill night in a quaint backyard playing oversized board games, we've got you covered there, too.
Slotzilla
It's impossible to miss SlotZilla. The 11-story, slot machine-inspired zipline attraction looms above the east end of the Fremont Street Experience. Adorned with Las Vegas icons like over-sized dice, a martini glass, coins, video reels, and two 35-foot-tall showgirls, it's the world's largest slot machine.
You can't win any money on Slotzilla, but you can zip past ogling pedestrians, high above Fremont Street. Slotzilla offers two ways to fly: a lower zipline and upper zoomline. On the former, you whiz along in a seated position 77 feet in the air, while the latter sends you flying Superman-style to the west end of the street, 114 feet up.
Mob Museum
The Mob doesn't run Las Vegas these days, but you can learn all about their historic time on top at The Mob Museum, the National Museum of Organized Crime and Law Enforcement. Built inside the city's first U.S. courthouse and post office, the museum is just steps from the Fremont Street Experience on Stewart Avenue.
Four floors of exhibits provide an interactive journey from the birth of the Mob to current events, underscoring the mob's history and impact on society. Highlights include a St. Valentine's Day Massacre wall, a firearm training simulator, and a crime lab for analyzing forensic evidence. The historic courtroom was restored to look as it did during the Kefauver Committee hearings on organized crimes in 1950 and 1951.
Hidden in the basement, The Underground is a Prohibition-era craft speakeasy with a working distillery. Enter through the secret door to enjoy authentic Prohibition-era craft cocktails or house-made moonshine.
Neon Museum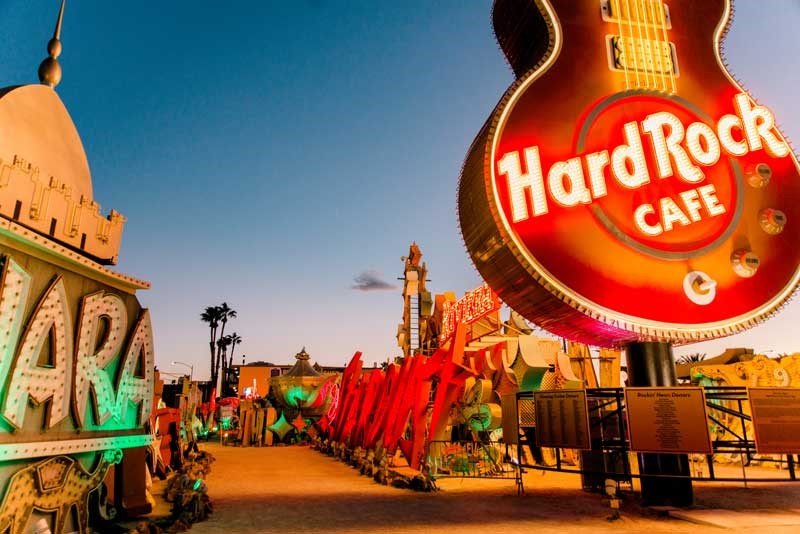 Las Vegas is famed for its iconic neon signs, some of which have been illuminating the Strip and downtown for decades. However, when a business or property shuts down, the building and its signs are often casualties.
Fortunately, the Neon Museum has made it its mission to preserve them. Located along the city's downtown cultural corridor, near the Las Vegas Natural History Museum and the Old Las Vegas Mormon Fort State Historic Park, this nonprofit breathes new life into vintage signs that would otherwise be discarded or destroyed. Each sign in the collection has played its own important role in the distinctive history of Las Vegas.
Peruse old-school relics like The Aladdin's Lamp, the animated Happy Shirt from Steiner's Cleaners, and the Hard Rock's huge guitar on a guided tour through the museum's outdoor Neon Boneyard. Even the visitors center, the historic La Concha Motel lobby, pays homage to vintage Vegas.
Zappos Tour
Online shoe and clothing retailer, Zappos, is known worldwide for its unique company culture, as well as CEO Tony Hsieh's gallant effort to revitalize downtown Las Vegas. As a result, more than 100,000 visitors—including celebrities—have signed up to visit its headquarters since tours began in 2006.
The company offers six tour experiences, including a simple guided tour through the creative and artsy Zappos building; a lunch tour; a tour with a Q&A; and a tour with a keynote presentation. For more information, visit Zappos Insights.
Gold Spike "Backyard"
For a lighthearted afternoon or spirited evening, head to the "Backyard" at Gold Spike to indulge in oversized games like Beer Pong, Four Square and Twister or relax at Recess Bar, a venue built out of a shipping container.
At night, this adult playground transforms into an energetic venue with firepits and live music every Friday and Saturday. The inside Living Room also brims with activity, including a 24-hour bar. With a slew of special events at Gold Spike, you may find yourself trading in your walking shoes for roller skates, ordering from a food truck or mingling with a bunch of party animals. And by party animals, we mean llamas and donkeys.
Shopping
Whether it's window shopping or bagging an unexpected deal, opportunities to shop 'til you drop abound in Downtown Las Vegas. The stores, antique and otherwise, are truly one-of-a-kind.
Antique & Retro Shops
There's no better place to find rare treasures than the antique and retro shops on Main Street South. Located south of Charleston Boulevard and north of Las Vegas Boulevard within the 18b Arts District, the street is dotted with quirky, one-of-a-kind shops. You could easily spend all day hopping from one to another.
The Antique Alley Mall on the northern end is a major draw of the area. The mall contains 12,000 square feet of antiques, collectables, retro styles, bargains, and vintage fashion. Across the way at Retro Vegas, peruse mid-century modern furniture, art, and accessories, as well as Red Kat's vintage clothing. And that's just one street corner! Not sure where to start? Most businesses in the arts district will happily provide a map.
Downtown Container Park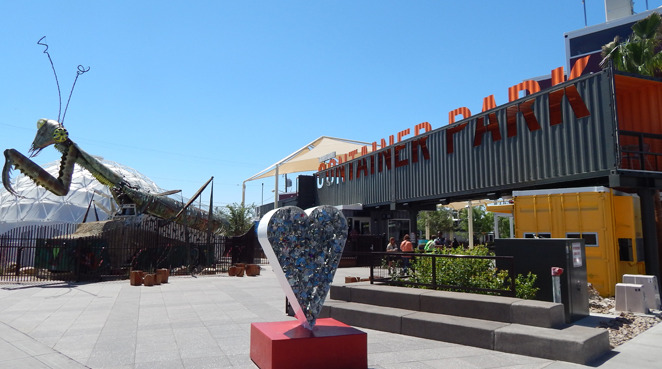 An open-air shopping center built out of shipping containers, the Downtown Container Park is a favorite hangout for Las Vegas locals and tourists alike. Located on the corner of Fremont and 7th street, it's hard to miss with its 40-foot, fire-breathing praying mantis out front.
Along with plenty of photo opportunities, the mall boasts boutiques, unique restaurants, and live entertainment such as free concerts and movies. Kids will especially love the interactive treehouse playground, as well as a 4K visual dome, an entertainment experience for all ages.
Gold & Silver Pawn Shop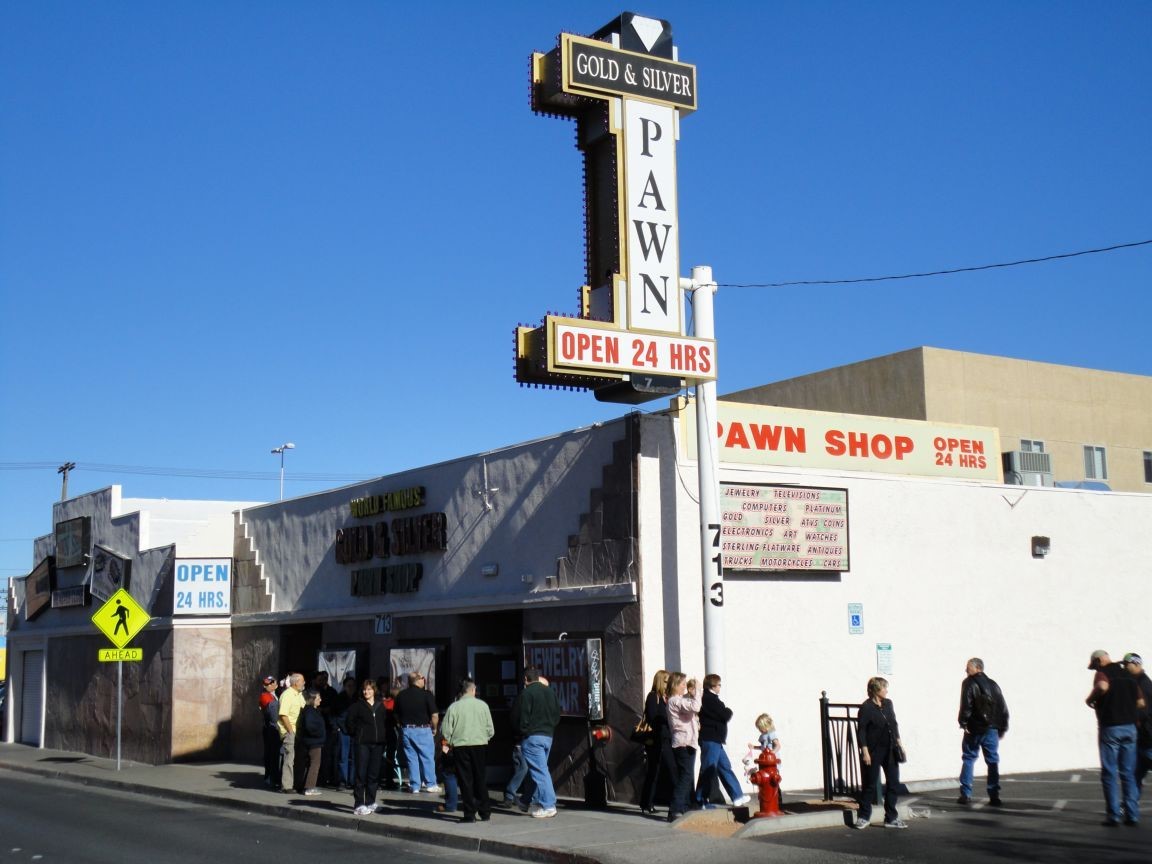 If you've ever watched "Pawn Stars" on the History Channel, you're already familiar with the world-famous Gold & Silver Pawn Shop. After debuting 11 years ago, the show quickly became one of the network's highest-rated. The shop at 713 Las Vegas Boulevard South is where all the fun and haggling happen.
Created by three generations of the Harrison family–grandfather Richard, son Rick and grandson Corey–the Gold & Silver Pawn Shop attracts droves of fans who yearn to have an item appraised or take a photo with the show's stars. You can visit as part of a tour group or check out the store's collection of coins, jewelry, antiques, clothing, and souvenirs on your own. Need to rest or grab a bite to eat? Head next door to the Pawn Plaza mall.
Ferguson's Downtown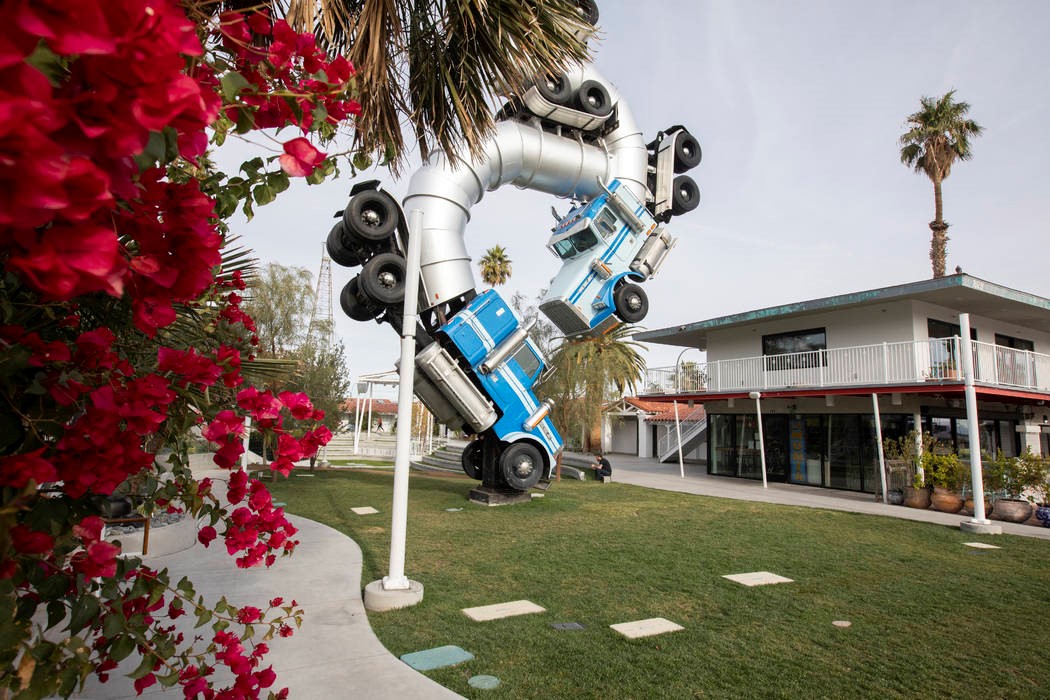 Old properties on the Las Vegas Strip are often erased from existence, but thankfully, Downtown Las Vegas tends to do things differently. Ferguson's Downtown is a shining example. Once a dormant 40s-era motel, the retro property is now an open-air, multi-use complex and campus where community members can connect, hang out, shop, eat, drink or work. The property includes stores, restaurants, and a hip coffee shop.
Ferguson's Downtown sits on a vibrant city block in the Fremont East District, across from 11th Street Records and Atomic Liquor. Parked out front is the must-see 4-story-high art installation, Big Rig Jig by Mike Ross. Previously on display at Coachella and Burning Man, the 50-foot sculpture of twisted tanker trucks moved to Vegas in 2016.
Drinks
Craft cocktails, home-brewed beer and a touch of Las Vegas history. That's what you'll find at our many Downtown Las Vegas bars. Toast to the atomic age of Nevada, drink to your favorite reggae jams jams or simply sip on creative concoctions from some of the world's most talented mixologists.
Downtown Cocktail Room
Discreetly hidden behind a confounding door (hint: push in), Downtown Cocktail Room is located just steps away from the Fremont Street Experience. It's easy to miss if you don't know it's there, but that's no deterrent for the bar's discerning clientele.
Inside, there's a metropolitan vibe, a classy décor, and a diverse menu of seasonal handcrafted cocktails, created by a team of talented mixologists. There's even a dedicated absinthe menu. The swank scene is enhanced by a DJ, who spins every Tuesday through Saturday night.
Banger Brewing
Celebrate the art of craft brew at Banger Brewing, a brewery and taproom dedicated to putting Las Vegas on the craft beer map. Created by five friends, who were brought together by the casino industry, Banger Brewing helped pioneer the craft brewery trend downtown when it opened on the ground floor of Neonopolis on Fremont Street.
The beers, such as the jalapeño Hefeweizen El Heffe, are unconventional and enticing, and are available by the pint or in flights. Pair an award-winning brew with a behind-the-scenes tour of the brew house or simply sit back and relax in the taproom. Since there is no kitchen, the brewery allows outside food.
Able Baker Brewing
Raise a pint to the Atomic Age — a naïve yet grave and hopeful era of "Atomic Blast" viewing parties and "Miss Atomic" beauty queens — at Able Baker Brewing. Located in the Gateway District between the Stratosphere and Charleston Avenue, the brewery takes its name from "Able" and "Baker," the first two atomic bombs ever detonated at the Nevada Test Site.
Enjoy more than 30 beers on tap, including homegrown brews like the limited-barrel release Chocolate Chip Honey Dip Stout and the hoppy blend Atomic Duck IPA. The venue offers indoor and outdoor seating, and culinary creations from the on-site AD Kitchen, as well as a respectful nod to this fascinating period in Nevada's history.
Jammyland
A Jamaican-themed lounge and restaurant in the 18b Arts District, Jammyland sways with hypnotic vibes on a spacious string-lit patio done up with murals, just south of Charleston Boulevard on Main Street. Opened in a converted garage by New York transplants Allan Katz and Danielle Crouch, it's an inviting space full of reggae spirit.
Enjoy island-inspired bites like jerk chicken wings and chickpea sliders while sipping on seasonal cocktails like the Damn Close Mai Thai, Shotgun Shacks, and Stranger Tings. The primarily rum-based cocktail menu is modeled after a mix tape, with each cocktail attached to a song that shares its spirit and country of origin. There's even a playlist on Spotify, though Jammyland doesn't recommend trying to get through it all in one sitting.
Atomic Liquors
Named for 1950s-era customers who watched atomic blasts from the roof, Atomic Liquors (originally Virginia's Café) is the oldest freestanding bar in Las Vegas. Located on East Fremont Street, the popular bar has appeared in multiple films such as "The Hangover" and "Casino," and played host to many legends over the years including Bugsy Siegel, Hunter S. Thompson, Clint Eastwood, and Barbra Streisand.
These days, you won't see any mushroom clouds from Atomic Liquors, but you can reminisce on this historic bar's early days with relics of the past, including a Geiger counter, and a tribute to the bar's original owners, Joe and Stella. There's a rotating menu of draft beers on tap, and signature cocktails such as the Fireball cinnamon whisky F-Bomb. In recent years, the bar added a restaurant, The Kitchen at Atomic, in the refurbished auto shop next door.
Velveteen Rabbit
A beloved staple in the 18b Arts District, Velveteen Rabbit is a fanciful craft cocktail and beer bar owned by sisters, Pamela and Christina Dylag. Two doors down from Mexican restaurant Casa Don Juan, and not far from The Arts Factory, it's an eclectic space done up with local art, boutique spirits, Victorian-inspired furniture, and an outdoor patio.
The seasonal cocktail menu oozes with creative concoctions such as the Should've Known He Was a Pisces, made with jasmine oolong-infused gin, Strega, oat milk, honey, lemon and turmeric; and the Two Weeks from Everywhere, mixed with peach tea-infused vodka, Aperol, orange juice, lime, soda, and Peychaud's. The bar steps things up on the weekends with DJs playing a mix of musical genres.
What experience will you choose?
With so much to see and do in downtown Las Vegas, it's practically a Choose your Own Adventure. Whether you decide to sip, zip or shop, you can't go wrong in this mecca of arts, culture, entertainment and nightlife.